Blog
THREE THINGS AFRICAN IMMIGRANTS IN U.S. WOULD ADVISE OTHER IMMIGRANT ENTRANTS
One respondent said the three items of advice he would consider as most important would include enrolling in the American school system, having all your immigrant visa documentation taken care of, and ensuring dedication in everything:
Go to school; Documentation—have your documents so that you can get employment quickly; and the third one, as you said, dedication. No matter what degree you bring from Africa, it's hard to get a job here. So when you come, you need to study. Let them accept you because you are the assistant and then, also, you shouldn't feel shock in the learning process. Just take your time.cxxxvii
AFRICAN IMMIGRANTS IN U.S. ARE ADAPT WITH RAPID GROWTH OF TECHNOLOGY
An African respondent thinks that even though developments in technology could make work much easier and more comfortable for those who are computer savvy and hold jobs that facilitate their working from home, the same workers' jobs could become transferable to other foreign countries in the wake of globalization:
I can stay anywhere as long as I have a computer and I have an internet connection. But a disadvantage is that my job can go away very fast because somebody else in my country of origin can do it from his computer…For a piece of the money. For a piece of the money. that is the other side of it. cxxii
CHARACTERISITCS OF WHAT AFRICAN IMMIGRANTS IN U.S. CONSIDER AS 'APPROPRIATE' OR 'IDEAL' A LEADER MUST HAVE

One African respondent's view of the characteristics of an "appropriate" or "ideal" leader is one who is fair, impartial, unbiased, and evenhanded, a doer, and most of all a leader by example:
Balanced. Balanced. He has to be honest and strict but fair. Hard worker. He should also show us by example. Yeah, lead by example. So as a leader, you must always show a good example, why you want it. our leaders, for example, are always late to work back home and I think that's a problem. We don't have good leaders. When I read about this on the net, it frustrates me that, at this stage, we don't have most of the workers in the ministries report to work on time. Sometimes they show up at 10am instead of 8am. that's one reason why we are far behind. our leaders don't lead by example and nor do they "walk the walk". cxxvi Another spoke of the importance of consistency: I like my leader to be consistent. When I say "consistent", I want him to be consistent in dealing with me the same way you deal with Mr. A, to be fair. If you are consistent with all of your employees, there shouldn't be too much grumbling of, "It's not fair, you discriminate," and all that. And to me, it helps me, as a manager, it helps me to go along with whatever the policies and procedures of that establishment are. once I use the policies and procedures to manage I tend to be more consistent. So that's what I would expect of my boss, to be consistent with whatever he does with any of his employees. cxxvii
THREATS AND IMPACTS OF GLOBALIZATION ON AFRICANS IN U.S.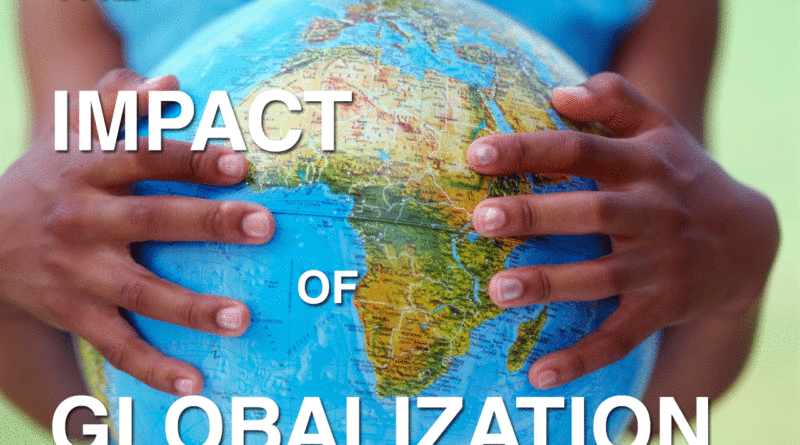 One African respondent living and working in the U.S. saw globalization in a positive way, making him prepare for the unknown by being flexible and developing a solid, practical plan that allowed him to learn the use of computers at his workplace as much as possible:
For me, it's affecting me in a positive way because I'm ready to go home. the jobs are going there, so…If the economic situation is stable for you then you are secured, but if you are not stable, you've got to be ready to go home, because globalization may yield economic benefits for you. It depends on your educational background too, and technology is part of it. You have a lot of people in computers and computers will go global. So if it is my home country, they are going to look for people in that area. cxvii
AFRICAN IMMIGRANT IN U.S. LABELED AS A NON-TEAM PLAYER
One respondent narrated her experience of not taking part in discussions at meetings because she was not asked to, making other co-workers think she was not a team player:
In a staff meeting, I'll be quiet. I just want to hear what she has to say and then she made a comment that I never said anything in the staff meeting. When it came to doing my annual evaluation, she writes I'm not a team player, I'm a great worker but I'm not a team player. So that really made me angry. I said, "What do you mean I'm not a team player? I come to work even when I was nine months pregnant. I still do other people's jobs, I help other people. What do you mean I'm not a team player?"

"Well, I'm saying you're not a team player because I remember any time we go to staff meetings, you don't say anything about the department discussions and things like that. I would like you to be involved."

I said, "Well, you don't ask me any questions. We go into the meeting, you tell us what to expect, but you don't ask, 'Do you have anything to add?' I can't interrupt you when you are talking, because that's not me. I don't know how to do that." And it has changed me as a person. I'm probably getting used to interrupting more. She has changed me as a person. cvii
AN AFRICAN IMMIGRANT IN U.S. BECOMES MORE CONFIDENT
One African respondent thought the political management and leadership environment he has experienced have affected him insofar as he is now more confident, although it took a long time in coming. As a result, he is now more resilient in his approach:
So that, to me, affects me. It takes me a long time to become confident or to confide in other people and, what I learn from it, I take to the job. When I work more on a job, I make sure I assert myself the very first day. I establish my expectations of my subordinates right away. that's what I learned, though it was very difficult for me. That's what I learned along the way. When you go to a new job, you have to assert yourself regardless of your humbleness or whatever. But you don't do it in a disrespectful way. How did this affect me? It made me more resilient. one thing I found out is that most people, when a foreign-born professionals comes in, they think that they know more than the manager. And then eventually they find out that the manager knows more. cvi
AN AFRICAN IMMIGRANT IN U.S. SHARES HER WORKPLACE EXPERIENCE
A respondent in an interview expressed her experience of the political environment at her workplace and how it affects immigrants' management and leadership roles. Because of their timidity, foreign-born professionals are taken for granted and the Americans tend to undermine them as managers. This perceived timidity makes their American counterparts think they are incapable of handling problems in their departments. The Americans tend to want to intrude on their authority to handle their issues for them:
They come at you at different angles, insinuating different thoughts and different things. So politically, yes, I have noticed that or I have dealt with that, or I have experienced that. So before you know it, if something happens in your department that you want handled, before you know it, there are other people intruding on your authority to handle that issue.cv
MOST DIFFICULT SITUATION THAT MADE IT HARD FOR AFRICAN IMMIMIGRANTS IN U.S. TO ADAPT TO THE AMERICAN CULTURE
Most of the African immigrant professionals interviewed were both excited and confused by their experiences with American culture and business practices. They all agreed that they had a hard time adapting to the culture and business practices of their American counterparts.
One respondent related his experience of the American people not understanding and believing in his work experience because it was acquired in my country of origin. Neither his experience nor his references could be used in his resume:
One was work experience, translating the work experience from my country of origin to America. In other words, even if you've worked in another country, there is never a cognitional fact. So it was very difficult trying to convince people that you had the relevant experience to work. that was one. two, besides that, you had no reference. there was nobody you could call as a referee to say that you performed brilliantly here, so you could be assumed to be adequate. In the same vein, in mine, there was no comparable reference to even the structures or the constructional engineering practices that you did. So you could have said we designed, for example, the twin towers in my country. there's no reference because nobody knows the country. there was no recognition. Finally, the people were not even aware of my country of origin. there was no recognition of it. You could have come from the moon. they couldn't tell you where it is, and therefore could not understand what you're talking about.clxxxv
AMERICANS' VIEWS OF AFRICAN IMMGRANTS' ACCENTS
A respondent in an interview expressed how he was dismayed to learn that immigrants' accents could be intentionally used against them in their places of work. He wiped tears from his eyes as he spoke about the treatment he consistently experienced with respect to the political environment in his workplace:
Actually the accent is killing us. Sometimes they pretend not to even understand what we're saying. But we have to understand it. We understand everything they say. they only understand you when they want you to do something. When they have a request that will benefit you or put something in the right position, they pretend not to understand what you are saying. It makes it difficult for us.civ
AMERICANS VIEW AFRICAN IMMIGRANTS AS TIMID
A respondent to an interview thought that Americans believe immigrants are timid by nature and hardly express their frustrations and that they are taken for granted and as such the Americans, especially managers, tend to undermine them:
"Yeah, I'm humble. You don't see me expressing my frustrations. So they (Americans) thought that maybe they can go over my head and try as much as possible to undermine me, just to frustrate me. And the first thing, it's not just because I am humble, it's because I'm a foreigner, too. It's because I'm a woman, too. And I'm black".ciii